 Technology
How would data loss, communication issues and IT down time affect your business?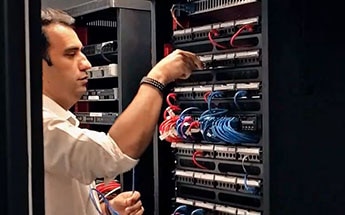 Have you considered what would happen to your business if your IP provider went down, you lost all your files or your clients simply couldn't reach you by phone or email? Data loss, communication issues and IT down time could ultimately hurt your business and your profits.
The good news is that as a Servcorp client you don't have to think or even worry about it. We have invested US$50 million into our worldwide converged IP network to ensure it is delivered to you at a 99.99 per cent up time across the globe. We have made an ongoing commitment to you to provide the highest levels of voice and data connectivity. Basically, if it's within our means our system will be there to back you up.
Having a reliable robust technology platform with multiple redundancies backup is critical to ensuring you can run your business smoothly. It doesn't matter if you are in one of our office locations or accessing your Servcorp online account anywhere, anytime. Our new iPhone application just extends that flexibility and capability.
In early 2010, Servcorp's systems stood up to these claims when Thailand fell victim to political unrest which led to havoc along one of Bangkok's prime business districts.
The Servcorp building was on fire, and clients were instructed to leave the premises and stop working. The site was inaccessible to clients and the challenge was to keep clients businesses operational without onsite availability.
This problem was resolved utilizing Servcorp's communications infrastructure to remotely log onto the system and divert all the calls to our Singapore location. All the client calls were being answered as if the business was open for operation; which is due to our converged global network enabling the redirection of calls to another location, in this case Singapore. We also flew our receptionist there so that all client calls could be handled in Thai. Our Thai clients saw the benefit of being in operation while the rest of Bangkok was in disarray. Read full Press Release here - http://www.servcorp.co.jp/media/html/eng/Press/news_it.htm/
We are committed to continuing to provide you with the best technology on offer so that you are able to focus on your business, while we take care of the rest! As we continue to build advanced applications, our one-step-ahead approach is why the future looks so exciting.
Watch this space for the next developments that could benefit your business!