 Technology
Servcorp On The Cutting-Edge Of Technology With Infrastructure Investments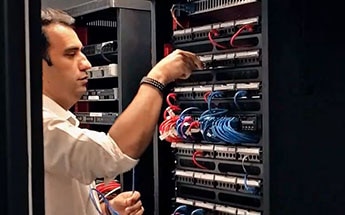 In order to meet the needs of its clients worldwide, Servcorp has independently invested more than US$40 million developing their IT infrastructure, and today the company owns one of the most extensive private telecommunications and facilities networks in the world.

What does this mean for the Servcorp customer? This means that the multinationals and SMEs which make up Servcorp's clientele are able to outsource their technology platforms and related services to the state-of-the-art Servcorp network and infrastructure, reducing their own capital costs and overheads, and focus on their own growth plans.
The Servcorp infrastructure includes the seamless online sign-up technology for Servcorp's Virtual Offices packages, Servcorp Online, Servcorp Global Network, an integrated IP phone systems and their own VoIP technology. This multi-million dollar infrastructure is readily accessible to Servcorp's clients at their own desktops.

Servcorp Online was developed specifically to be user-friendly, allowing clients to manage their dedicated Servcorp Serviced Office or Servcorp Virtual Office accounts remotely, from anywhere in the world, such as specifying their personalised call answering, messaging and call diversion preferences, and be assured that the Servcorp receptionist will answer all their incoming calls exactly as required.

With Servcorp Online, clients can book meeting rooms, boardrooms, facilities and resources in real time, and manage or change these bookings instantly if they need to. Clients can also download and view their invoices via Servcorp Online at any time – the technology puts clients in full control of their day-to-day requirements at the office.

The Servcorp proprietary IP telephone system means that throughout all the Servcorp serviced office and virtual office locations worldwide, there is only one high quality phone service which offers international calls at local call rates, conferencing, voicemail and many other services to Servcorp's clients. By installing the Servcorp Onefone system to their desktop or laptop, all the advanced features of the state-of-the-art Servcorp IP phone system becomes instantly available at the client's fingertips whether at home or during a business trip anywhere in the world.

Servcorp clients receive a dedicated IP phone number which means just one number which is accessible anywhere in the world and which can be answered by a Servcorp receptionist if required, following the instructions exactly as specified by the client using the Servcorp Online interface.

All Servcorp infrastructure is on the cutting-edge of technology yet designed to be highly user-friendly, and there is even in house IT support at hand at every Servcorp Serviced Office location worldwide. The Servcorp IT support teams comprise Cisco- and Microsoft-certified engineers who monitor the Servcorp network performance and provide support to clients, whether onsite, or remotely, 24/7. This ensures that Servcorp's Serviced Office and Virtual Office clients' IT needs are always looked after, as they make use of one of the largest and best global IT platforms in the industry.